As a professional manufacturer of high-quality network energy products, Powerstar Network Power(shenzhen) Co., Ltd. is devoted to design, manufacture, sales and service of data center products for a long term, and providing customers with reliable data center product solutions.
Powerstar companies adheres to the principle of both high-tech and high reliability, and always advocate the concept of green energy-saving environmental protection to develop future data center products,while constantly optimizing product design and launch a new generation of modular network energy products to better serve market.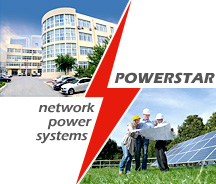 The company's main products include UPS, precision air-conditioning, intelligent power distribution, monitoring software, etc., of which UPS power's capacity is 500VA-1,200KVA, divided into HR, HP, GP, HPOWER, EPOWER, SPOWER, MP, MT and many other series. Can achieve stand-alone operation, redundant parallel, multi-machine parallel, modular system, etc. In the UPS market, its variety is the complete, with the big power and parallel many, and can meet the needs of all users.
Powerstar has established R&D and production bases in Shenzhen, and has distribution service outlets in major cities in Beijing, Shanghai, Shenzhen, Nanjing, Chengdu, Shenyang, and Dalian, and is equipped with dozens of trained engineering techniques and installation and commissioning personnel. With its perfect technical service network, to enhance the value of use for users.
Powerstar company conducts professional and technical training for agents, direct users and after-sales service personnel at all levels every year to enable them to better sell, use and maintain its products. At the same time, Powerstar Company requires sales agents to match the size of its sales market with sufficient spare parts to ensure high-quality, efficient, rapid and friendly after-sales service.
Powerstar company products are widely used in government, defense, transportation, aviation, aerospace, communications, finance, securities, scientific research, education, medical, manufacturing, commerce, communications and other fields. Some cooperative customers: Xichang Satellite Launch Center, Jiuquan Satellite Launch Center, etc.IBM, INTEL, MICROSOFT, GOOGLE, APPLE, China Mobile, China Telecom, China Unicom, People's Bank of China, Industrial and Commercial Bank of China, Bank of Communications, China Merchants Bank, Minsheng Bank, Shanghai Pudong Development Bank, Industrial Bank, CITIC Securities, Guotai Jun'an Securities, CAAC, Beijing Capital International Airport, Shanghai Pudong International Airport, Chinese Academy of Sciences, Ministry of Public Security, Ministry of Communications, SASAC, SARFT, General Administration of Customs, Xichang Satellite Launch Center, Jiuquan Satellite Launch Center, etc.
Innovation is inexhaustible motive force for development of Powerstar, and "green, energy saving, environmental protection" is Powerstar's eternal concept. Let science and technology lead Powerstar's sustainable development, so as to provide reliable data center product solutions for all sectors!