Data center MR series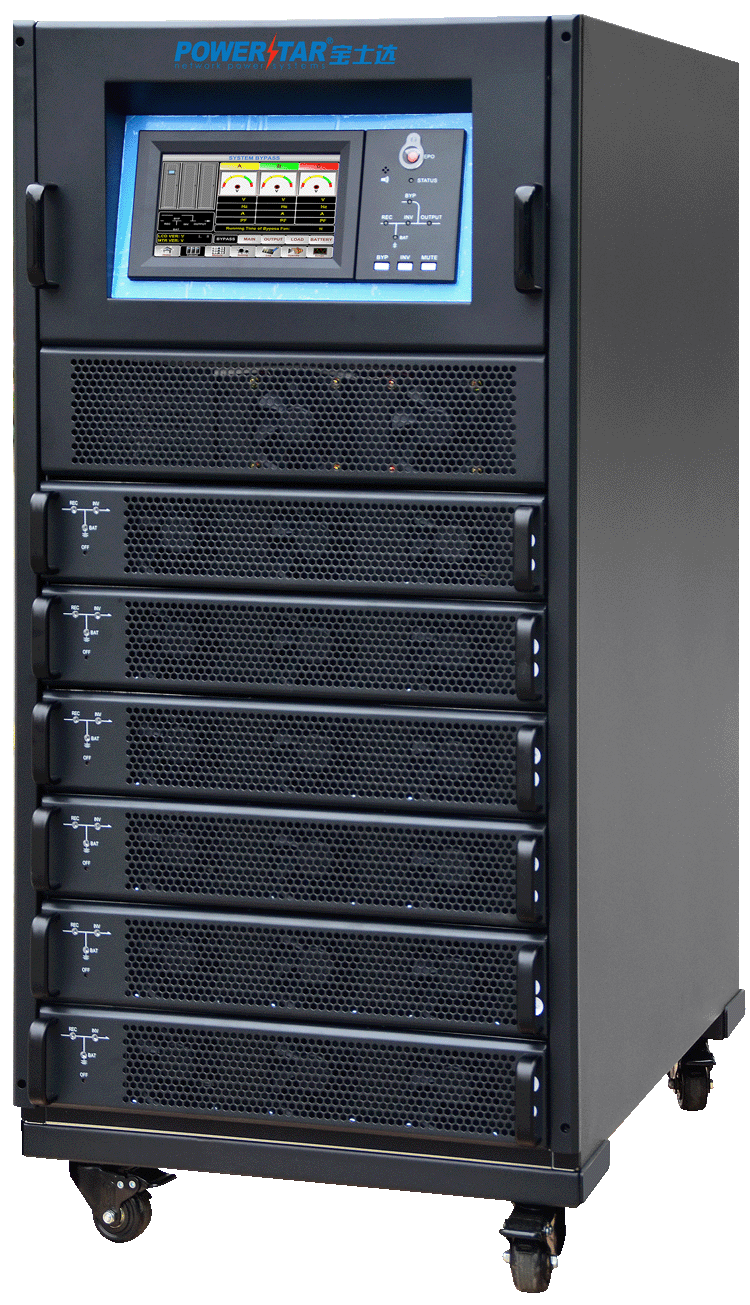 ·Product introduction:
PowerStar's MR series rack-mounted UPS (modular uninterruptible power supply) is a kind of highly reliable product designed to satisfy the higher demands of the power system. With unique online double-conversion structure, it operates in a three-phase input and three-phase output manner. All the power semiconductor devices adopt imported integrated modules, thus making the system much more reliable. This power system, made up by multiple power modules in parallel connection, operates when there is no master synchronization, and has achieved N+X parallel redundant backup, thus greatly improving the system reliability. Besides, the power system, equipped with large LCD touch screen, graphic operation interface and intelligent "man-machine" dialogue menu, has perfect self-detection and self-protection functions as well as remote monitoring and supervision functions. The most advanced tri-level technology applied to the rectifier and inverter has enabled the system efficiency to reach up to 95%. Therefore, it is a kind of product with the smallest size, highest efficiency, lowest energy consumption ratio, highest power density and extremely high cost performance in this industry.
(1)Static Switch
The static switch module is mainly used to achieve the rapid switch between inverting output and A.C. bypass power in order to comprehensively improve the power supply safety and reliability of the system. It receives two groups of AC input, and then outputs one of them. Under the on-line operation mode, the static switch will connect the power module inverting output to the system output. If the power module fails to supply sufficient voltage within a certain period, the static switch will immediately switch to the bypass power supply. With the help of the advanced foreign high-power thyristor, the static switch is able to achieve zero switching. In addition, it is highly resistant to shock and short circuit, thus making the system more reliable and stable. The system also has the self-checking function, interlock function, function of protection against abnormal output, function of instantaneous power down protection, and function of output overload and short circuit protection. It has RS485 interfaces, integrates MODBUS communication protocol, and has been equipped with the input and output stem-node cards. The static switch supports online hot plug in the bypass, and has achieved online replacement without affecting the power supply to load. Besides, with the UART communication function, it is able to communicate with the monitoring unit and modular unit, and is able to send and receive work orders and warning information at any time.
(2)System Monitoring
The monitor unit is mounted on the upper cabinet. By operating the panel, you can conveniently know the operating status of the system and check parameters and various event information. After the system has been installed, users can operate the system through the operation panel of the monitor unit. The system data is collected by a 32-bit digital signal processor. The 150X90 LCD touch screen is used as the display, which supports touch operation and keys operation simultaneously, thus satisfying different operation requirements and achieving easy and flexible use. It offers RS232 and RS485 communication interfaces, and is equipped with multiple input and output stem-node cards. Users can choose to configure the TCP/IP expansion card or GSM SMS alarm in order to make remote online monitoring. The system monitoring is made in three zones, including the status indicator lamp zone, data information display zone and keys operation zone. The status indicator lamp zone, through LCD under different statuses, provides simple status information of the system for users. The LCD data information display zone provides detailed information about system status for users through LCD display. The system monitoring display has four operation interfaces, including the system data interface (SYSTEM), modular data interface (UPS MODULE), historical events recording interface (EVENTS) and function setup interface (SETUP). Information is displayed in multiple languages such as Chinese, English and so on, and the switch between different languages can be done as required. The user-friendly operation interface is supplied. All the operations are done on graphic interfaces, which is simple and clear. In addition, the system offers users excellent operation experience, because corresponding information will be displayed on the LCD display once users make the keys operation.
(3)Power Modules
With the help of multi-system online double-conversion technology, the power module is able to convert the alternating current into direct current after rectification, filtering and voltage stabilization. Such direct current is able to charge the battery pack through a digital charger and make intelligent management of the battery pack while supplying power to the post-stage inverter circuit. As a highly efficient three-stage sinusoidal modulator circuit, the post-stage inverter circuit is able to invert the direct current into alternating current again to supply continuous and reliable power with stable voltage and frequency to loads. The input AC is the three-phase AC, and the output DC, with the voltage of ±240V (32~44 batteries adjustable), charges the special battery pack. The output AC has the three-phase sinusoidal alternating voltage. The module has the power-on self-test function, and provides alternating input overvoltage/ undervoltage protection, alternating output overvoltage/ undervoltage protection, output overload protection, short circuit protection, over-temperature protection, automatic separation protection under abnormal output, battery discharging protection and so on. With perfect protection functions and intelligent communication interfaces, the module is able to communicate with the monitor unit and send and receive work orders and warning information at any time. With complete UPS functions and integrating rectification, inversion, charging and control into one, the module can function normally without requiring any synchronous control signals or other control means, thus reducing bottlenecks for system operation and improving the reliability. Besides, it has effective dust-proof design. The protection level for IP is IP20 / IP21 (optional). The front protective screen and filter screen can be dismounted on line for cleaning. All the circuit boards have been spayed with a special paint which is moisture, mildew and salt mist proof, in order to make the system more adaptive to the environment and enable it to be used in severe environment.
·Application Fields:
It can be widely used in the fields of telecom, finance, security, insurance, taxation, traffic, health care, enterprises and so on in their data processing centers, server systems, communication systems, call centers, precise instruments and equipment, office automation, core network facilities and so on.
·Performance Features:
With the feature of parallel redundancy, the MR series rack-mounted modular UPS system can completely replace the traditional 1+1 and 2+1 parallel connection system. Besides, it has the function of hot plug unmatched by the traditional parallel connection system. Therefore, it outdistances the traditional system no matter in reliability or in usability. It is also a "green power supply" solution, because it has the advantages of high input power factor, low harmonic distortion, high efficiency and high stability and reliability. Supported by powerful monitoring software and comprehensive communication interface, it is applicable to data centers, especially the telecom industry and finance industry.
■Redundancy: The MR system, made up by static switch module, system monitoring module and one to N power modules in parallel connection, is a parallel redundancy UPS power supply adopting the three-phase input and three-phase output mode and the rack-mounted modular structure. The system capacity is divided into 20KVA, 40KVA, 60KVA and 90KVA, and the power module has two power options---10KVA and 15KVA. Users are free to choose the one they want according to the size of load. Adopting the hot plug mode, the power module can be expanded and replaced at will. The MR system adopts the non-master-slave parallel connection and multi-level distributed control technology, so all the power modules in the array carry the load equally. All the modules in parallel connection are the in-built redundant intelligent units, and they do not require a monitor unit to control them, thus producing no bottlenecks for operation and ensuring a reliable performance. Once any one of the modules breaks down (including monitor unit), MR system's redundancy design will be brought into full play to comprehensively ensure the normal operation of equipment, thus achieving failure redundancy to the greatest extent. What's more, users can select redundancy with more than one time of error-tolerant rate as required ;
■Expansibility: With an extremely flexible structure, MR system is a redundant and scalable system (N+X redundancy), and it can be updated and expanded online as required. The power module is designed in a concept that it can be removed and installed at will during system operation without affecting system operation and output in order to expand the investment as required and enable users to "grow dynamically " with the development of business. Thus, it not only expands equipment in later period, but also reduces the initial purchase costs;
■Reliability: Equipped with double DSP controllers, the power module can be controlled independently, thus producing no risks of single-point failure. Rectification, inversion, charging and discharging have achieved DSP digital control. The IGBT modules, instead of discrete components, are adopted. With greater current carrying capacity and smaller power consumption, the IGBT modules have greatly enhanced the efficiency and reliability of power module and the system;
■Usability: MR With super powerful parallel function, MR system is a leader in the high-end UPS technologies. Its MTBF is 1.5 times as long as that of the traditional UPS system, and its MTBCF is 3 times as high as that of the traditional UPS system. The mean time to repair (MTTR) needs only five minutes when the system operates normally;
■Flexibility: MR system's battery pack, ±240V (32~44 batteries adjustable), is shared by all the UPS modules in the system (including charging and discharging). Only one pack of batteries can be used or several packs of batteries in parallel connection can be used as users require in order to increase the standby time. By connecting batteries in a flexible manner, the MR system reduces the battery voltage as well as battery quantities and prolongs the service life of the battery pack;
■Safety: MR system's power module adopts the three-phase and five-wire input. The advanced high-frequency control technology has satisfied the safety requirement of various key equipment on the zero-earth voltage when MR system is under online operation;
■Environmental friendliness: PFC circuit MR system usesWith the help of advanced active average current control technology, MR system's PFC circuit can produce a total harmonic distortion rate (THDI) of only 3%, and the unit input power factor greater than 0.99. Under the condition of linear loading, it can significantly reduce electric network pollution and effectively reduce the network load and power consumption. The overall efficiency can reach above 95%, thus greatly saving energy;
■Manageability: The MR system has complete power analysis functions as well as various communication interfaces. With the help of intelligent monitoring software, the two-way interactive communication between the system and the administrator can be achieved by means of the communication interfaces. Thus, the administrator is able to make remote monitoring of the system at any time, and handles some abnormal conditions in advance, so as to keep the system running stably and reliably. Special charging rectifiers, equipped within each module, offer high reliability and produce no noise waves, thus avoiding the influence of high-frequency waves on battery's service life. In addition, the battery overheating during charge is avoided, thus prolonging the service life of battery. The monitor unit can automatically switch between the floating charging mode and equalized charging mode for the battery pack, and can charge the battery pack by limiting the current. The voltage for equalized charging and floating charging and the value for limited current can be set. It also has the functions of temperature compensation and self-discharge testing;
■Maintenance: The MR system has adopted the advanced UPS hot plug technology, so the single module can enter or quit the parallel units online freely, requiring no outrage. Meanwhile, the parallel system can be maintained online, requiring no special instruments and technologies.
·Technical Parameters:
-40%~25% (linear decrease of input voltage between -20% and 40%, linear derating of power between 100% and 70%)
THDi<3%(100% Linear load)
Default -20%~+15%; -40%~+25% Optional
Inverter / bypass switch time
Synchronous switch: ≤1ms; discontinuous switch: ≤10ms
<135% long-term operation; 135%~150% switch off 6 minutes later; >150% switch off 300ms later
Linear load <1%;Non-linear loads <3%
Total harmonic distortion
Steady-state voltage stability
Steady-state response time
Restore to output voltage steady-state value ±1% within 20ms
Operate for a long time under 105% overload; switch to the bypass after one hour / ten minutes / one minute under 110% / 125% / 150% overload; switch to the bypass 200ms later above 150% overload
Time of switch between mains supply and battery
Time of switch between bypass and inverter
Dynamic voltage transients
Frequency tracking velocity
0.5Hz / s to 5Hz / s, adjustable
Degree of voltage unbalance (100% unbalanced load)
Maintenance-free lead-acid battery
±240VDC (32~44 batteries adjustable)
Intelligent and dynamic adjustment of charging current for equalized charging and floating charging; current for equalized charging (20%* system power) / system voltage
Normal mode: 95%; economical mode: 99%
LCD+LED + 7-inch colored touch screen + keyboard
RS232, RS485, USB, programmable stem node, optional SNMP card, EPO, dynamo interface and AS400 card
Back wire-incoming and lower wire-incoming supported
SNMP network communication card, anti-thunder module, parallel-operation components, LBS, battery temperature compensator, SMS alarm, dust screen and shock-proof components
0~95% (condensation-free)
EN62040-2,EN61000-4-2,EN61000-4-3,EN61000-4-4,EN61000-4-5,EN61000-4-6
Dimension of main unit
(W*D*H)mm
Products shall be subject to any changes without additional notices. The pictures are for reference only. Please adhere to the original products in case of any mistake!