JSW Series Precision Purifying AC Stabilized Voltage Supply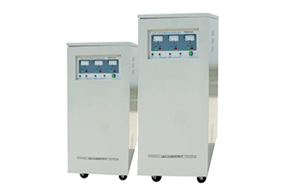 JSW (three phase) series is the precisely purifying AC power supply. It adopts the most sophisticated power supply adjustment technique of the sine power distribution program with the high efficient broadband filtering network. The main circuit consists of the sine energy distributor mechanism and high-power filter in parallel. When the input voltage or the current of loads changes, the sine power distributor charges power to the induction coil and adjust the inductance value of induction coil to ensure the high stability of output voltage in the form of half periodic sine wave current. This series have the advantage of wide voltage-regulation range, high voltage-regulation precision and fast response. It can inhibit the noise and peak interference of state grid effectively. The pointers and digital display boards are optional for different users. With the high reliability and stable performance and the attractive appearance, it is one of the most popular models in AC power supply.
·Application fields
It is ideal for the voltage regulation and protection of the computers and peripherals; network broadcast equipment automatic assembly production line and modern high-tech productions in industrial and mining enterprises, transportation, schools, medical, hotels, scientific research lab, government agencies.
·Features
■The adoption of the sine power distributor and high-power LC filter theory guarantees the good voltage regulation performance and high reliability;
■The voltage adjusting executive element is semiconductor device which has the small waveform distortion of output voltage, fast response speed, short adjustment time, high precision voltage regulation and continued adjusting output voltage;
■The separating voltage regulation mode can adjust each phase separately;
■Wide voltage regulation range, capable of long-term continuous operation;
■Powerful anti-interference ability to inhibit all kinds of noise and the spike pulse in the state grid;
■Overload protection, short circuit protection, output over voltage protection and short phase protection;
■Extremely fast voltage response and adjustment, the minimal output voltage adjustment time is 20ms;
■Solid-state electronic components, non-contact adjustment, no wear parts, high reliability;
■The anti-interference ability and the precise voltage regulation, especially for the high-precision equipments;
■Effectively immune from grid noises, spike interference and thunderstrike.
■High adaptation to load;
■Small size, light weight, high power;
·Technical Specifications
Phase voltage 180V-250V, wire voltage 320V-430V
Phase voltage 220V±1%, wire voltage 380V±2%
Input 1000V/3us; pulse output ≤ 30V
Products shall be subject to any changes without additional notices. The pictures are for reference only. Please adhere to the original products in case of any mistake!