Data center MT series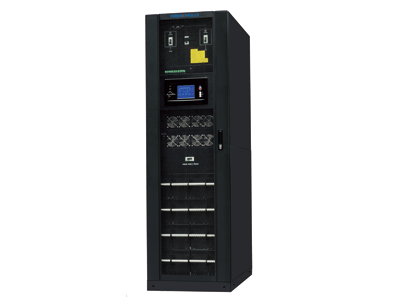 ·Description
MT Series modular UPS is designed to meet the demands of the power system that requires only one cabinet and enjoy high availability, reliability and flexibility, low costs and save the area of the optimal power supply at the same time. The system uses the original line double conversion structure, 3-in and 3-out; all power semiconductor devices are made of imported integrated module, which greatly improve the reliability of the system. Both the rectifier and inverter use the most advanced SVPWM technology that makes the efficiency reaches 95%, It is the smallest, the highest efficiency, the lowest energy consumption and the maximum power density product, and high cost-effective. This product provides 10-60KVA power system of the single cabinet, and is composed of 3 independent power modules in parallel, which can run the main synchronization, N + X parallel redundant backup, and greatly improving the overall reliability of the system; the power system has perfect self-testing and protection functions, 5.7 inch touch screen and LCD graphical interface, intelligent " man-machine dialogue" menu and remote monitoring function, it also can set the UPS system parameter through the LCD touch screen, parameter setting and query windows has good man-machine dialogue function, the intelligent battery management interface and detection system for operation and maintenance makes the operation condition of the system more clearly and management of battery more easily.
(1)STS
STS module is mainly used for fast switching between the inverter output and the AC bypass power to comprehensively improve the security and reliability of supply. It receives two sets of AC input and select a group of output. When working online, the STS connects inverter output of power module to the system output. If the power module in a particular time can not provide enough voltage, STS will immediately switch to bypass the power supply.
Adopted foreign advanced high-power thyristors, STS can achieve zero switching, at the same time it has a very strong impact of resistance and ability to withstand short circuit, so that the reliability of the system, and greatly enhanced its stability. It has the following functions such as internal self-testing function; interlock function; the abnormal system output protection function; momentary power failure protection function; output overload and short circuit protection. With RS485 interface, integrated MODBUS communication protocol, standard input and output dry point card. The entire static switch bypass supports online hot-swappable line replacement which does not affect the power supply to the load. It also has UART communication function, which can communicate with system monitor and modular units, sending and receiving orders and all kinds of alarm information at any time.
(2)System Monitoring
System monitoring is in the above of cabinet, users can check the working status of the system, the query parameters and event information through display and the operator panel. After the system is installed, all operating system can be completed on the operation panel of the monitor.
The acquisition of system data is completed by a 32 bit digital processor. Display is 5.7 Inch with touch LCD, which enable touch and press operation to meet the different operating habits, which is easy and flexible. It also provides RS232, RS485 communication interface and standard multiple input and output dry point card. With optional TCP / IP cards and GSM SMS, alarm remote network monitoring can be achieved. The system monitor is divided into three regions: the status indicator area, the data display area, the key operating area. Status indicator area provide a simple system status information through the different states of the LED to the user; LCD data display area provides users with detailed system status information through the LCD display, system monitoring display four operator interfaces: SYSTEM, EVENTS,UPSMODULE and SETUP. The system provides a multilingual display, such as the Sino-British, which is a friendly user interface; all operations have achieved a graphical interface, which are simple and straightforward. When users operate the buttons, the LCD screen has a corresponding information display, allowing users to have excellent operating experiences. It makes the operation condition of the system more clearly and management of battery more easily.
(3)Power Module
Power modules use a multi-system online double conversion technology to transform after main rectifier, filter, regulator for DC, the DC after level inverter circuit powered by a separate digital charger to charge the battery pack and intelligent management, post-inverter circuit sine wave modulation circuit for a high efficiency of the third order, then DC re inverter AC load regulator, frequency stabilization, continuous, reliable power. AC input for the three-phase mains, output DC ± 240V dedicated battery pack charge, is a three-phase output AC sine wave AC voltage.
Modules have self-diagnosis, input over-voltage/low voltage protection, output over-voltage/low voltage protection, short protection, over-temperature protection, etc.
Module have intelligent communicate interface which can communicate with system monitor and send and receive orders and alarms.
Module have full UPS function, integrated rectifier, inverter, charge, and control in one. Module can work normally without external synchronization control signal or other means of control, which reduce the bottleneck of the system and improve reliability.
Module dustproof design: IP protection class (IP30), the positive protective surface mesh and filter available online which is disassemble and clean. All board sprays are specially painted, which improve its environmental adaptability, and make it possible to be used in harsh environments.
(4)Hot plug battery pack
Cabinet ups support 10KVA/15KVA/20KVA power module. You can select 3 power modules, 16 hot plug battery pack module, the maximum 60KVA under full load condition can provide about 15 minutes. Only one cabinet space you can enjoy a high availability, high reliability, flexibility and low cost with saving the areas in one of the best UPS module power supply system. The maximum 60KVA under full load conditions, supports up to 4 battery cabinet extension, and provides about 110 minutes.
Digital control of charger, the user can set the charging current, voltage, battery capacity and battery number. Four section types of intelligent charging is realized by digital battery management system, improving the service life of the battery to achieve real-time detection of battery state. The cold start with system can directly start the system from the battery without power. The consistent style of battery cabinet and the host ,making the layout of room more beautiful.
·Applications
It can be applied in servers, data networks and internet service provider in telecommunication, finance, insurance, government, transportation and medical labs.
·Features
MT Series modular UPS system not only has the characteristics of machine redundancy but also can be achieved with 1+1 modular redundancy, with traditional and unmatched online hot swap function. Both reliability and availability are much higher than the traditional and the machine systems. At the same time, it is a "green power" program, with a high input power factor, low harmonic distortion, high efficiency, high stability and reliability advantages, with powerful monitoring software and comprehensive communications interface, which is fit for data center, especially telecommunications and the financial industry.
■ Redundancy: MT is a 3-in and 3-out redundant modular UP, which is composed of STS module, system monitoring module and 1 to 3 power modules in parallel. The system capacity are 30KVA, 45KVA, 60KVA and power module of 10KVA, 15KVA, 20KVA. Users can choose freely according to the size of the load, and the power module is free to expand, replace the hot-swap mode; MT system uses unowned all the power module average burden on system load from control technology, an array of parallel, multi-level distributed, parallel modules are built-in redundancy intelligent independent individual, without parallel system centralized control system monitoring, non-bottleneck, performance reliable. Failure of any module (including system monitoring) the MT system redundancy design will be fully effective, comprehensive protection for the normal operation of the equipment, to achieve the greatest degree of fault redundancy, while the user can be selected more than once redundant fault tolerance;
■ Scalability: MT system architecture is highly flexible, redundant scalable system with N + X redundancy, according to user needs ,it upgraded its online capacity expansion. The design concept of the power module in the system can easily be removed and installed without affecting system operation and output, demand expansion "of the investment planning, allowing users to" dynamic growth ", with business development to meet late devices with the need to expand, but also reduces the initial acquisition costs;
■ Reliability: power module configuration dual DSP controller, an independent control module, no single point of failure risk. Rectifier, inverter, charge, discharge all DSP digital control. IGBT module instead of discrete devices, having a greater current carrying capacity, the smaller the power consumption, which greatly improves the efficiency and reliability of the power modules and systems;
■ Availability: MT systems have the super parallel functions, is the leading representative of the high-end UPS technology, the average time to failure values (MTBF) is 1.5 times that of traditional UPS, the average major failures value (MTBCF) is a traditional UPS systems 3 times, mean time to repair time value (MTTR) is only five minutes in the system under normal operating conditions;
■ Flexibility: the MT system's battery pack (± 240V) shared by all UPS modules in the system (including the charge and discharge). Can be a user needs to use 1~4 battery packs that is 4~16 hot plug battery pack modules ,or battery in parallel to increase the system standby time. MT system using the the flexible battery access mode, reducing the number of battery voltage and to improve the service life of the battery pack;
■ Safety: the MT system power module uses a three-phase five-wire input. State-of-the-art high-frequency control technology enables the MT system to meet the safety requirements of all kinds of key equipment for the zero-to-ground voltage line operation;
■ Environmental Protection: MT system PFC circuit uses advanced active average current control technology, the input current total harmonic distortion (THDI) only 3%, while unit input power factor PF> 0.99. Linear load conditions, which greatly reduce the power grid pollution effectively reduce grid load and power consumption, machine efficiency up to 95% energy savings;
■ Management: MT system built-in power analysis and a variety of communication interfaces with intelligent monitoring software, two-way interactive communication through a variety of communication interface with the administrator, the administrator at any time remote monitoring system, some unusual phenomenon pretreatment, so that the system is always smooth and reliable operation; inside each module to set up a dedicated charging rectifier, high reliability, high-frequency noise, avoid high-frequency wave impact on the battery life; avoid battery overheating charging and extended battery life; system monitoring the battery pack average float conversion and limiting charge; the average float voltage and the charging current limit value can be set; with temperature compensation and self-discharge detection function;
■ Maintenance: MT system use a state-of-the-art hot-swappable UPS module technology, monomer module can any online into or out of a parallel unit, without blackouts operation. A single set of hot plug battery pack module, reduces the battery replacement maintenance time and improve the safety and reliability of the system; the online parallel system maintenance, and the operation can be carried out without special instruments and techniques.
·Technical Specifications
-40%~25% (input voltage from -20%-40% linear decline, power from 100%-70% linear decline)
Inverter/Bypass
Transfer Time
Synchronous switching: ≤ 1ms; uninterrupted switching: ≤ 10ms
<135% long-term work;135%~150% maintain 1minute then shutdown;>150% maintain 300ms then shutdown
±1% (load balancing), ±1.5% (unbalanced load)
Linear load <1%, Non-linear load <5%
Steady-state Voltage Stability
Transient Voltage Response
restored to ± 1% output voltage in 20ms,
105% long-term work;110%/125%/150% maintain 1hour/10minutes /1minute then switch to bypass;>150% maintain 200ms then switch to bypass
Bypass/Inverter
Switch Time
synchronous switching: ≤ 1ms
Dynamic Voltage Transients
Voltage Unbalance (100% load unbalancing)
hot plug battery pack module(each battery module contains 10 12V9AH maintenance free lead-acid batteries)
±240VDC(1 groups of cells contains 4 battery pack modules at least)
Intelligent dynamic adjustment; Amperage is (20%*System Capacity)/Voltage
normal mode:95%; economic mode:99%
LCD+LED, Touch screen + keyboard
RS232,RS485, dry contact, SNMP,EPO, generator interface
SNMP card,Lightning protection module, battery temperature compensation, SMS alarm, dust network
≤1000 m;>1000 m,derating according to GB/T 3859.2
EN62040-2,EN61000-4-2,EN61000-4-3,EN61000-4-4,EN61000-4-5,EN61000-4-6
module cabine:280KG (MT30 MT45 MT60)
module cabine:600*1020*2000 (MT30 MT45 MT60)
battery pack module:440*590*134
PDU module:440*590*134
Note: the power module would reduce one when insert the PDU module
·Power Module Technical Specifications

Battery Pack Number (Minimum)
Battery Pack Number(Up to)
±240VDC(1 groups of cells contains 4 battery pack modules at least)
Each module provide 2kva charging power
Each module provide 3kva charging power
Each module provide 6kva charging power
comply with system requirements
Products shall be subject to any changes without additional notices. The pictures are for reference only. Please adhere to the original products in case of any mistake!